The sofa provides comfort and easiness to you. The proper covering of the sofa and also a color selection of cover showed neatness and cleanness of your room. By changing the protection of the sofa and washed It, then again used for sofa reduce your cost for purchasing a new sofa. Different types of sofa have different types of cover, like classic, modern and traditional sofa. And the covering of all these types of the sofa also varies. Seasons to the season, with your mood or any coming festivals you can easily change your sofa cover instead of buying a new sofa according to condition. Sometimes the color of the sofa cover is matched with your all room color, but the one thing that irritates you more is the slipping of the protection of sofa. Then here a need to avoid these slipping type stuff some of these steps that help to prevent slipper sofa stuff.


What is slipcover?
Slipcover is the protective fitted cover that may be slipped on or off. Slipcover is mainly made up of the clothes, and it changes with a season for cleaning or moving. These are very simple that protect your furniture from dust covers. During the 18th century in England, the rich peoples start using the sheets named as a custom-tailored sofa cover as a seasonal furnished. The quality of these covers was lightweight or linen, or cotton-linen blend was used because they absorb moisture and look perfect for the summer. Slipcover is now fabricated by the tailors as like clothe.


Slipcover material
There are many ready-mades and universal fit slipcover presents in markets. These generic fit slipcovers are converted into the couch or love seats by a tailor. Different technique can be used to make the slipcover non-slippery. Material or the stuff of stretchable fabric can also be used as slipcover. Slipcover material is usually a polyester blend. This polyester blend includes polyester cotton and elastane. Elastic fabric that stretched from both sides vertically and horizontally that makes it look perfect. Strings or ribbons can also be used for these fabrics that make it more ideal to avoid displacement. Slipcover fabrication is offered by slipcover makers.
How to stop sofa cover from slipping
Through these methods you can keep your sofa cover in place and prevent it from slip over.
1. By using sticky tape trick
High-quality velcro are uses for this purpose. The sofa cover is removed from the cushion and attached velcro cut a 10 to 15 cm velcro strip to the shelter. If the fabric is thin, then place several pieces of velcro on edges and in the middle as well as vertically. Then put some velcro on the back arms and bottom of the sofa. Place the slipcover onto the couch with velcro on it. In this way, the velcro will prevent from slipping of sofa cover. If velcro attaches at the base, a person wants to be able towards the cushion.
2. By using non-slip rubber pads
Cover movement can also be restricted by using non-slip rubber pads. These are small disc shape pads that attached at the bottom of the cover. Mostly non-slipping pads have an adhesive rear side that quickly connected with the fabric of the sofa. These pads have small rubber threads that are digging to couch and keep cover place no matter how often you sit on it. These rubber pads can also be used to limit the movement of coasters rugs and other fabrics items to be displayed. It is an excellent method to restrict your sofa cover on your sofa after you sit on it.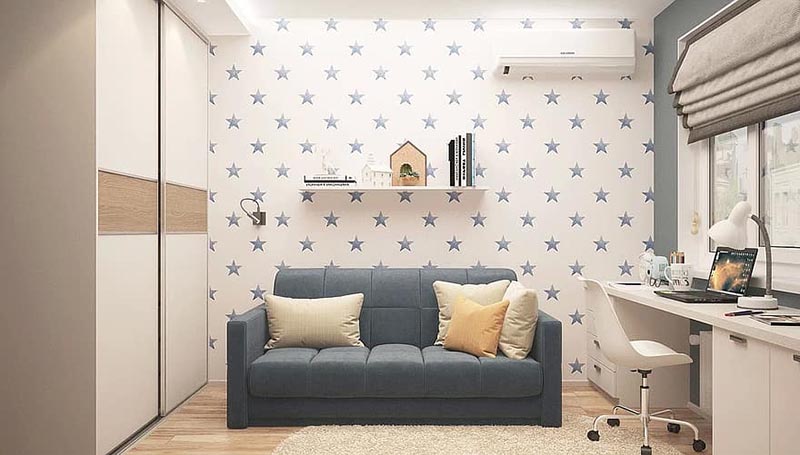 3. By using the ring and clip on your sofa
A simple way to keep any kind of cover on the sofa just sew a small piece of fabric on the couch and the cover as well. Then attached a small metal ring on the couch and clip on the cover. Then attached them this ring and clip each other. This technique can also be used to hook cushions on your couch and preventing it from displace. Since these ring and clip is sewed on the strips not directly on the cover and sofa. So these can be removed easily whenever needed. This technique keeps your cover sharp all time.
4. By using rod
You can also use rods to prevent the cover from slipping. Take different rod equal to the length of the sofa and the range between two seats. Now place your sheet on the couch. Put the rod between the back of the couch and the seat. Then after doing this place, other rods between two positions. Fit them as much as you can. Then take two more rods for the arms of sofa place in the same way as you do earlier and fit them. In this way, these rods will protect your cover to be slide from your sofa.
5. By using friction
The cover is usually slipped from the sofa because the material present under the cover is slippery or very soft. If it makes it non-slippery, it will be right in the prevention of sliding of cover. For this purpose, we can use a non-slippery material that will place just before shelter. This material will be cut in a smaller size as compared to the cover; otherwise, it will show to your guest that makes it unpleasant. This material may be a cloth or any other substance that will help to place the covering a proper way to look it better.
6. By using hook and loop tape
Hook and loop tape are available in the market. It is the best technique to prevent the cover from slipping. Sew hook and loop tape on edges of cover and sofa as well. If you can use basic hand sewing it will be good otherwise you can also apply to sew through a machine that will be a big expensive and tough. Use small strips of this tape on edges, or you can also place in the middle. This tape is best for its strength to hold. Use this tape for one side of the pairing, and this can be removed when needed.
7. By using top-quality conditioner
American scientific society in 1921 used the method to make the slippery leather to non-slippery one. For this purpose, make a solution of three parts of rubbing alcohol and one piece of water. Now, apply this solution on the surface of leather. Then rub gently by using a wet and lint-free cloth. Avoid vigorously rubbing. Otherwise, it will remove the surface colour of the leather. Let it for 2-3 hours. Until it dries completely, then treat this leather with a top-quality conditioner. This conditioner loosens its stiffness if the leather is slippery. It increases its grabbing ability to avoid this placement.
8. ,By using auto gym leather cleaner
The tricky issue may be due to its stuff that makes it slippery one. By using some chemicals, we can make this glossy cover to non-slippery. You can clean the sofa with an auto gym leather cleaner twice a year. That makes it non-slippery. Avoid damaging effect of this cleaner on sofa material. Apply a good dose of auto gym leather feed. It will help the fabric to be in good condition. Many people suspect this procedure to help avoid displacement of cover from the sofa due to its slipperiness. There are many leather gyms cleaner available in the markets.
9. By using gorilla grip slip resistance
Sometimes, it is good to use a short term of a cover to avoid being displaced. It may be because of you are expecting your pets, children, guest and a lot of red wine to a look throughout your evening. Gorilla grip slip resistance on sofa cover is a protector that has suede-like texture. It also has the liquid-repelling capabilities. This cover also has a quality of the thick and the grippy underside. When you and your guest sit on it, it will not slide because of this underside property. This quality can also be used in the carpet's formation.
10. By using tuck-once grips
Using this tuck tool that tucks the extra fabric into furniture crevices. These tuck tools are made up of the styrene. Its unique design makes your cover at one fix place. They also keep the cover secure and stabilize with no more tucking. The good reason for the use of these tools is that it holds the fabric. It is placed in good shape at all around the sofa invisibly. Because it is made up of sturdy crystal clear, flexible and elastomer.it is easy to install. You just have to insert grip in services between the arms and the cushions.
Tips
· Before you put the couch cover on the sofa first attached the strips of a rug grip on the seat or sofa.
· Some of the excess fabric is present on the sofa cover. It may push at the arm of the sofa and also on the back of the couch.
· The creases of the extra fabric also set or hide between the cushions and the frame.
· Any type of wrinkles that showed between the sofa seats or at the center of the back seat could remove it gently.
· The wrinkles also removed by smoothing pattern of the fabric. Then carry from lines towards the arms and the back of the sofa.
Conclusion
A sofa is the best sitting place in all of the furniture material. The shape of the couch and stuff of sofa material is more important according to your all room matching things. Different kinds of cover exist for different way and style of sofa. Easily washed and dried of protection and then again use for a couch as a clean or new cover instead of buying a modern sofa. The cover of the couch when looks dirty then the cover easily removed from the couch and ready to wash. Some stuff looks attractive, but only difficulties are that the covers slip from the couch that made awkward for you also for your guest. Above are some types of stuff and technique that avoid the cover to move. All of these techniques are easy to handle and proceed in a comforting way. These techniques are timesaving and save your money also.